About Crailing
The Parish of Crailing incorporates the villages of Crailing and East and West Nisbet and is located in the centre of the northern half of Roxburghshire with Roxburgh parish to the north; Eckford parish to the east; Jedburgh to the south and Ancrum to the west. The area covered by Crailing parish is 4 miles from north to south and 3 3/4 miles from east to west and has Jedburgh as its postal town. The river Teviot wends its way through the parish dividing it into two nearly equal parts.
Crailing Parish Church There are two churches in Crailing - the most obvious one is the former Free Church which faces you as you turn into the village from the A698 this church is now in fact the village hall known as "Lothian Hall" it is signposted from the A698 "Lothian Hall". (For further information on the village hall - see the Halls tab of our website. Church services are held in the parish church which is also signposted from the A698 and sits several hundred yards back from the main road. This church dates from 1775, but was substantially redesigned in the late 19th century by the famous High Kirk architect Peter McGregor Chalmers. The curved apse is particularly impressive. For information on Crailing Church Services please visit http://www.aleandteviot.org.uk/about-us/crailing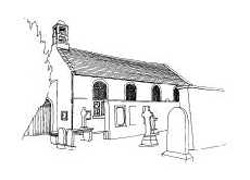 Crailing Community Orchard is a group of old apple, pear and plums varieties that once belonged to Crailing Hall, near Jedburgh. The land belongs to Lothian Estates with a 25 year management agreement between the estate and Borders Forest Trust. The site is one of the most recent community projects being managed from 2005. Local tree wardens provisionally look after the site but the local community have helped with pruning and hedge planting.

The long term vision is to establish a working orchard and conserve the old varieties found within the Borders. The orchard is 0.4 Hectare and is in need of scrub control. Volunteers are always welcome. Visit the Crailing Community Orchard facebook page for further information https://www.facebook.com/crailingcommunityorchard/


The 2016 Jethart Callant, Garry Robert Hogg, was presented with a Quaich, by Ron Leddy, Vice Chairman of Crailing, Eckford & Nisbet Community Council to commemorate the Crailing Rideout. Following their stop at Crailing where the Callant and his immediate entourage also visited the war memorial to lay a wreath the cavalcade continued on to Nisbet for a refreshment stop.